Knoxville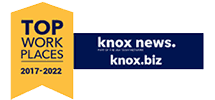 Location:
2095 Lakeside Centre Way
Suite 220
Knoxville, TN 37922
Mailing Address:
2095 Lakeside Centre Way
Knoxville, TN 37922
Phone: 865-691-9000
Office Hours: 8am-5pm EST, Monday-Friday
Welcome to LBMC's Knoxville office, where innovation meets professionalism in a modern workspace. Situated a few miles west of Knoxville, TN, our office benefits from the city's impressive ranking in Forbes magazine's Top 150 Best Places for Business and Careers, as well as its recognition as one of the Best Places to Live by U.S. News. This strategic location places us at the heart of opportunity and growth.
LBMC Knoxville's Workspace
Step into our modern workspace designed to foster creativity, collaboration, and productivity. Abundant natural lighting bathes the environment, creating an atmosphere that energizes and inspires. Our commitment to technological advancements ensures that our team operates at the forefront of industry innovation, allowing us to provide you with the best solutions for your business needs.
A Hub of Diverse Industries
At LBMC Knoxville, we pride ourselves on serving a diverse range of industries. Whether you're in manufacturing and distribution, construction, real estate, not-for-profit, or healthcare, our team of dedicated professionals brings expertise tailored to your specific industry. Our roster includes skilled CPAs and licensed professionals proficient in tax, audit, business valuation, litigation support, healthcare consulting and compliance, risk services, human resources, recruiting, and beyond. Whatever your business requires, we have the specialists to support you. See our services list for more information.
Gateway to a Multifaceted City
Knoxville, nestled just outside the breathtaking Great Smoky Mountains National Park, is more than just a location—it's a dynamic community brimming with cultural richness. Explore charming shops, relax in beautiful parks, and immerse yourself in a vibrant entertainment scene. Sports enthusiasts will find their passions catered to with opportunities to support the Tennessee Smokies minor league baseball team, cheer for the Knoxville Ice Bears professional hockey team, and engage with the spirited Hard Knox Roller girls roller derby team. For those who bleed orange, The University of Tennessee Volunteer football and basketball teams offer thrilling experiences.
Knoxville's Rich History and Culture
Knoxville, TN, boasts a rich history and vibrant culture that adds to its appeal. The city played a significant role in the Civil War and is home to historic landmarks like the Blount Mansion and the East Tennessee History Center. This historical backdrop blends seamlessly with the modern amenities and cultural events that continue to define Knoxville today.
Strong Sense of Community
Knoxville's sense of community is palpable, with residents embracing a welcoming and friendly atmosphere. The city's numerous neighborhood associations and community organizations foster connections and collaborations among its diverse population.
Knoxville's Chamber of Commerce and LBMC Careers
For more insights into living and thriving in Knoxville, the Knoxville Chamber of Commerce is your go-to resource. And if you're interested in joining our LBMC Knoxville family, don't miss our LBMC careers page. We believe in nurturing talent, fostering growth, and providing an environment where you can make a meaningful impact while advancing your career.
LBMC's Knoxville office offers more than just a location—it's a nexus of professionalism, innovation, and community spirit. From our contemporary workspace to our comprehensive range of services, we're here to elevate your business to new heights. Join us in embracing the opportunities that Knoxville presents, both professionally and personally.