Knoxville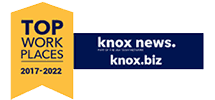 Location:
2095 Lakeside Centre Way
Suite 220
Knoxville, TN 37922
Mailing Address:
2095 Lakeside Centre Way
Knoxville, TN 37922
Phone: 865-691-9000
Office Hours: 8am-5pm EST, Monday-Friday
The LBMC Knoxville team is located in a modern workspace, with plenty of natural lighting and enhanced technological innovations. It is located a few miles west of Knoxville, TN, a city ranked in the Top 150 for Best Places for Business and Careers by Forbes magazine, as well as Best Places to Live by U.S. News.
What services are offered at the Knoxville office?
Our Knoxville team works in a variety of industries including manufacturing and distribution, construction, real estate, not-for-profit, and healthcare, just to name a few. We have CPAs and licensed professionals in tax, audit, business valuation, litigation support, healthcare consulting and compliance, risk services, human resources, recruiting and more. We can support all LBMC services in this office. See our services list for more information.
Where is Knoxville, TN?
Located just outside Great Smoky Mountains National Park, Knoxville is a multicultural community, full of interesting shops, parks and entertainment. Sports enthusiasts will enjoy the minor league baseball Tennessee Smokies, the Knoxville Ice Bears professional hockey team, the female roller derby team Hard Knox Roller girls and home to The University of Tennessee Volunteer football and basketball teams.
For more information on working and living in Knoxville, visit the Knoxville Chamber of Commerce. and check out our LBMC careers.