In April of 2019, Microsoft released the largest collection of planned updates in the history of the Dynamics 365 line of applications. The April '19 release signifies a key milestone for Dynamics 365. It is the first major update where all our customers across Dynamics 365 will be on the latest version and on a consistent update schedule. It is also a template of how major updates will be done going forward in April and October every year. Here are the key dates for the April '19 release.
The April '19 release features hundreds of new capabilities and improvements set to be released between April and September of 2019. Those capabilities include all areas of Microsoft's Dynamics 365 platform. Specifically, new features and improvements to D365 for Sales, Marketing, Customer Service, Portal, Field Service, Project Service Automation, Finance and Operations, Talent, Retail, and Business Central. Download: Dynamics 365_Power Platform_Release Notes_April 2019
Over the next few months, I will be posting details on many of these new capabilities. So be sure to check back often to learn more Dynamics 365 and the latest releases each month. This month I would like to cover the recently released Power Platform and discuss whether it's time to switch to the D365 Unified Interface and say goodbye to the old Sales App UI.

Microsoft's New Power Platform – Available Now
For those who are unfamiliar, Power Apps and Power BI are the two fasting growing applications in the Microsoft Cloud arsenal. The new Power Platform combines the capabilities of Power BI, PowerApps, Microsoft Flow, the Common Data Service, and administration tools into a collection of services that can extend, customize, and integrate Dynamics 365 and Office 365 into your environment. The April '19 release provides major improvements to help business teams, analysts, developers, and administrators leverage these resources as a foundation to build new custom "purpose-built" apps in a more seamless way. Ex. Without the need for a developer, a property management company needs a better way to handle move out inspections at the rental properties they manage. They use Power Apps to create an app that leverages renter data stored in Dynamics 365 with inspection checklist data stored in the Common Data Service to record the condition of the apartment and trigger events such as the scheduling of repair work and cleaning. The app can access the phone or tablet's built-in camera to take pictures of the property for proof of any damage. The app displays show a bar graph of the Top 10 Repairs and their Average Cost thanks to the ability to integrate Power BI visualizations.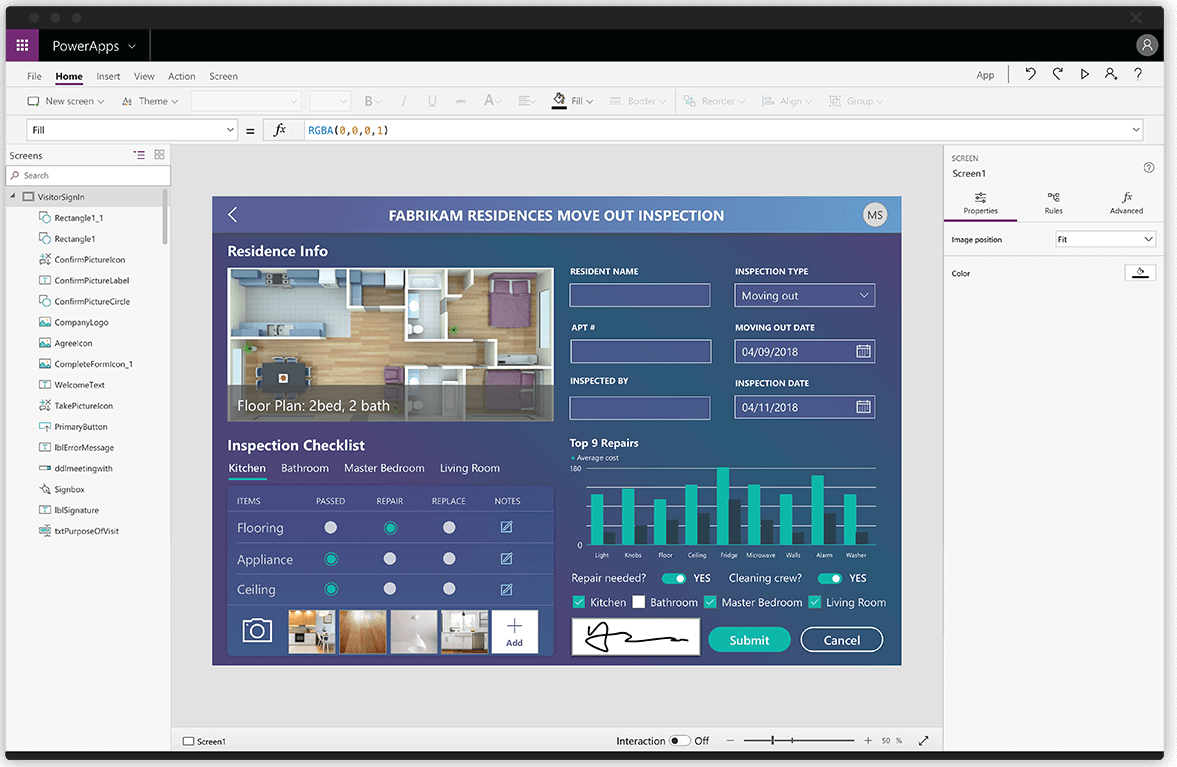 System Administrators have reason to be excited as well. Microsoft has now created an entirely new Admin Center experience powered by the Power Platform. The new Admin Center will make managing all of an organization's Microsoft Cloud applications easier than ever. New abilities to test new releases well before their availability, better storage and usage reporting, auditing and access to Microsoft support resources are just a few of the benefits of the new Power Platform Admin Center.
Dynamics 365 (CRM Users) – Is it time to switch to the Unified Interface?
Over the last year, users have been faced with a choice when deploying Dynamics 365 (CRM). Do I want to use the traditional Dynamics 365 Web interface or do I want to use the Dynamics 365 HUB (Unified Interface)? The answer really depends on whether you are using Dynamics 365 for Sales, Customer Service or something totally different.
For those who use Dynamics 365 for the more traditional use cases (managing Sales or Customer Service processes), it appears that Microsoft is helping make that decision for you. One thing that is clear with the new April 2019 release details is that the majority of the new capabilities/features coming between now and October is only going to be available in the newer HUB/Unified Interface.
Customer Service Insights – Available Now
Sales Insights – Coming July 2019
Playbooks – Available Now
Sales Forecasting – Coming May 2019
New LinkedIn Sales Navigator Connector – Available Now
Omni Channel Engagement Hub – Knowledgebase, Virtual Agent & SMS Support – Available Now
For comparison:
Dynamics 365 – Older Web Interface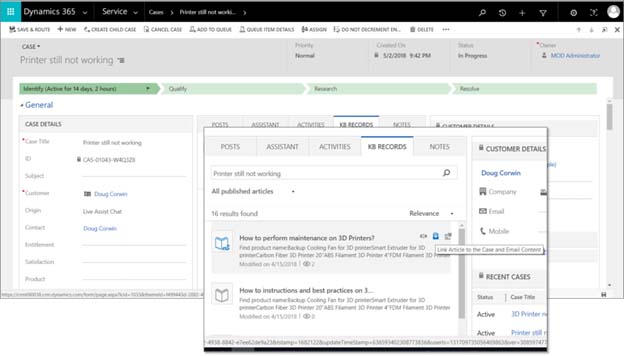 Dynamics 365 – New HUB (Unified Interface)