Secure Now; Upgrade and Transform When Ready
If you're running Windows Server or SQL Server 2008 or 2008 R2, these versions are reaching the end of their support lifecycle. Each version is backed by a minimum of 10 years of support (5 years for Mainstream Support and 5 years for Extended Support) including regular security updates. End of support means the end of security updates, which can cause security and compliance issues and put applications and business at risk. We recommend upgrading to current versions for the most advanced security, performance, and innovation. For customers that can't get it all upgraded by the deadline, new options help protect applications and data during the upgrade transition.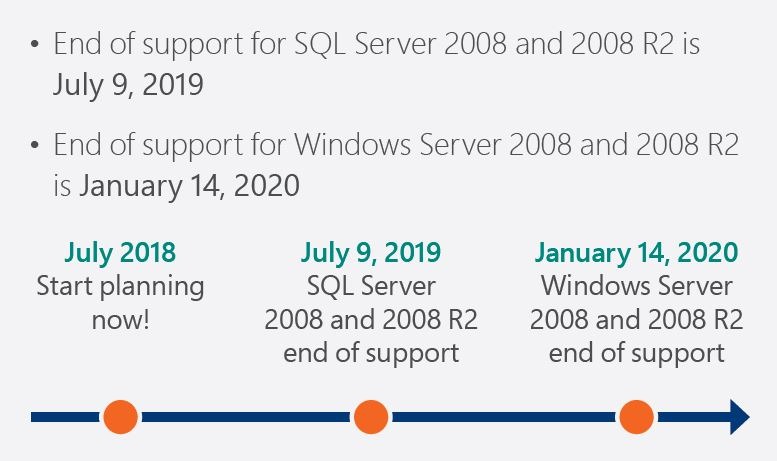 Option 1: Migrate your Workloads to Azure
Running current versions of software enables you to benefit from the latest security, performance, and innovation features, as well as regular security updates. If you cannot upgrade to the latest version before the deadline, however, rehost workloads in Azure and get three years of Extended Security Updates at no additional charge.
Gain these benefits:
More time to modernize on your terms.
Security built into Azure, plus more than 70 compliance certifications.
Use your existing Windows Server and SQL Server licenses to save on Azure Virtual Machines and Azure SQL Database Managed Instance with the Azure Hybrid Benefit.
Option 2: Secure On-premises; Plan for Hybrid
If you cannot upgrade on-premises servers before the deadline, get peace of mind by buying Extended Security Updates for your servers running Windows Server or SQL Server 2008 and 2008 R2.
Gain more time to complete your upgrade process.
Upgrade to an operating system and data platform designed specifically for hybrid datacenter scenarios: Windows Server 2016 and SQL Server 2017 editions.
Customers can buy Extended Security Updates for three years after end of support. Eligibility requires active Software Assurance or Subscription licenses under an Enterprise Agreement.
Customers pay for only the servers they need to cover annually, which enables them to reduce costs as they upgrade.
Get Started
Start planning using this collection of online resources.
Contact Us to get answers to your questions, for help upgrading or to learn more about the new options to help protect applications and data during the upgrade transition.