Student Internship
Get to know LBMC at any stage in your college career! Whether you are just beginning your college journey or nearing the end, LBMC offers great opportunities for you to get to know us along the way. If you are a junior or senior, see how an internship with LBMC can provide you the best experience possible for your career growth.
An internship with LBMC is a great way to receive the hands-on experience, direction, and networking-building support you will need to be successful in your career. Interning at LBMC can often lead to a full-time position, as well as open the door to numerous opportunities for you at LBMC.
Amplify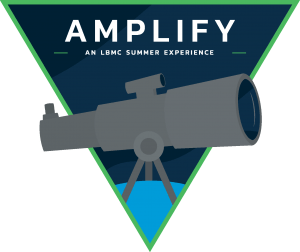 LBMC invites you to participate in our 2023 Amplify Summer Leadership Program!
Amplify is designed to provide rising juniors and seniors a glimpse into the field of public accounting and consulting. Amplify serves as our formal application for ALL 2024 internship and full-time opportunities across all three Tennessee office locations. Internships and full-time roles will be in-person in our Chattanooga, Knoxville, and/or Nashville offices.
2023 Amplify participants will have the opportunity to sharpen their leadership skills, network with professionals from all levels and departments, and gain insight into our tax, audit, and advisory practices. Attending Amplify helps students map out their future by providing an inside look at our firm and culture.
WHAT YOU'LL DO
As an Amplify participant, you'll sharpen your leadership skills, learn what it means to be a part of what makes LBMC a Top Workplace, and engage with team members across all levels at LBMC to learn what opportunities await. You'll also meet students who share similar goals and interests and build the foundation for a strong professional network.
WHAT YOU CAN EXPECT:
LEADERSHIP – You'll interact with LBMC leadership across our tax, audit, and advisory teams to expand your career network
HANDS ON EXPERIENCE – Sharpen your leadership skills by participating in engaging group activities alongside like-minded students
LEARN – Hear from industry professionals through Q&A panel discussions and interactive presentations
OPPORTUNITIES – Network with potential future team members for 2023 internship and full-time staff roles
IDEAL CANDIDATE PROFILE FOR 2023 AMPLIFY & 2024 ROLES
Must be an Accounting or Management Information Systems Major
Must be a Rising Junior or Senior
Prepare the following documents and submit your application:

Resume
Unofficial copy of your transcript
Applications for 2023 will open in January 2023.
Employee Testimonials

I started at LBMC right out of college in the Specialty Tax group. I feel very fortunate to have been able to grow my career with a firm that has such a respectable reputation in the Nashville area. I have been able to work on a variety of clients and gain experience learning from well-respected individuals in the accounting industry. Along with career opportunities, I have also been given the flexibility and support needed to grow my family and give me the foundation for a successful career.
Jessica Toney, CPA, Tax Services

LBMC has given me the opportunity to enhance my professional career and to work with a group of well-respected colleagues and clients in our community, and I value the opportunity to be part of the LBMC team.
Nick Hill, CPA, Audit and Assurance
LBMC's Recruiting Process
Meet Us
We strongly encourage you to attend any recruiting events on your campus to get a chance to meet your LBMC campus recruiter. By attending our events, you can get a better feel for the day in the life of an intern, as well as the culture of LBMC and what makes us a Top Work Place!
Job Search
LBMC actively recruits on many campuses in the southeast. We are looking for students who are at least a junior in college working toward a degree in accounting; for our Risk internships, you must be a junior working toward a degree in management information systems, information security, or computer science.
Apply & Review
You will apply directly through your school's career services portal. Once your application has been received, your credentials will be reviewed to assess whether or not you will be invited to interview with us on campus.
What Next?
If selected to interview, we will first meet with you for campus interviews. If you advance to the second-round interviews, they will take place onsite at LBMC and will offer you more insight into who we are and how you can find your fit with LBMC.