LBMC has positions available to support the healthcare industry.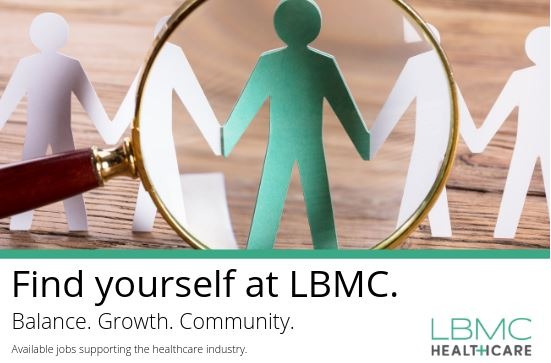 We are a great place to work and we have the awards and people to prove it!
Available jobs:
As one of the fastest growing companies since our inception over 30 years ago, we know that people are the key to how to maintain our success.  Our people, culture, benefit options, growth opportunities, and not to mention that we are located in some pretty amazing cities in Tennessee, all come together to make us a TOP Work Place!
But that's not all.
Balance:  At LBMC we realize that people are most effective and generally happier overall when they are allowed to nurture a healthy balance between their personal and professional lives. We strive for continual improvement in this area of our practice which in turn provides continuity of our engagement teams and a higher level of staff and client satisfaction.
Growth: Striking a balance between working hard and playing hard is important to us at LBMC and providing exceptional client services is our #1 priority.  To help our team members achieve 'exceptional' we have a continuous learning platform that provides our employees the tools they need to continue to grow their careers, sharpen their minds and excel.  You are only limited by your 'will.'
Community: LBMC employees can also be found volunteering at the local NPR station, sorting food at food banks, speaking to a Beta Alpha Psi group on a local university campus, running in community fundraiser races or playing in a community kick ball game, to name a few. We place a priority on community, both inside LBMC and outside.  It is no wonder LBMC is recognized as a leader in community involvement.
Don't take our word for it.  Spend some time on our site. Read some of the testimonials and get to know us. Then, let us get to know you by submitting a resume, or applying for one of our open positions.
LBMC has a spirit that is uniquely LBMC!  Be careful, you just might catch the LBMC spirit too.
LBMC – named a Best Place to Work by the Nashville Business Journal, a Top Workplace Hall of Fame Award Winner by The Tennessean, a Best Accounting Firm to Work For by Accounting Today and Best Places to Work for Recent Grads by Symplicity!