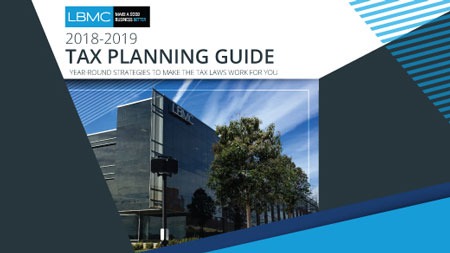 During the upcoming tax season, many businesses and their owners will see the Tax Cuts and Jobs Act (TCJA) help reduce their tax burden. For C corporations, the TCJA replaces graduated rates ranging from 15% to 35% with a flat rate of 21%. For sole proprietors and owners of pass-through entities, there is a new deduction. For all entity types, the TCJA enhances many depreciation-related breaks. However, the TCJA also reduces or eliminates some tax breaks for businesses. It's critical for businesses to know exactly how they'll be affected so they can plan accordingly.
Are you taking all of the tax breaks available to you?
LBMC's 2018-2019 Tax Planning Guide provides an overview of the most consequential changes under the TCJA and other key tax provisions taxpayers need to know. Our guide offers a variety of strategies for minimizing taxes in the new tax environment.
LBMC can help you identify which changes affect you and determine the best strategies to maximize the tax law's benefits and minimize any negative tax ramifications.
Tax Guide Contents:
Year-to-Date Review
Tax Strategies Checklist
September 2018 – August 2019 Tax Calendar
Executive Compensation
Investing
Real Estate
Business Ownership
Charitable Giving
Family and Education
Retirement
Estate Planning
Tax Rates