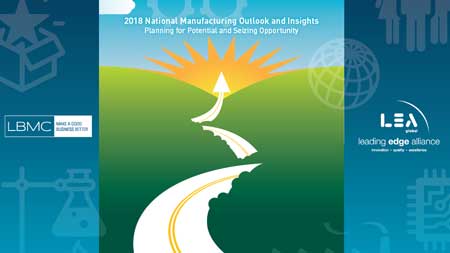 Thank you for taking the time to review our 2018 National Manufacturing Outlook and Insights report — and if you participated in this survey, thank you for sharing your thoughts.
In our second year of reporting, we believe the 75% increase in participation is evidence of the value that this report and LBMC and other Leading Edge Alliance (LEA) firms provide our middle-market manufacturing clients across the country and around the world. For 2018, manufacturers expressed significant optimism for their businesses, the industry, and the economy.
The political focus on manufacturing and movement on tax reform, reduced regulations, and improvements to healthcare undoubtedly provide a foundation for this positive outlook. The growing U.S. and global economies, weak dollar, rising energy and commodity prices, and improved business and consumer confidence also support this outlook. However, we believe the resilience and success our manufacturing clients have created for themselves has as much to do with this optimism as anything.
Regarding priorities for 2018, growing sales, cutting costs, attracting/retaining talent, and utilizing technology to reduce risk and build a competitive advantage remain critically important. We hope these findings provide you some insightful questions to ask and strategic ideas to evaluate around these topics, ultimately helping you grow your business and achieve your goals.
Please don't hesitate to reach out to us to discuss any of the information presented in the following report.