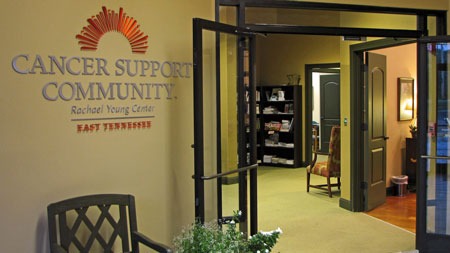 Focusing On What Really Matters
The Client
The Cancer Support Community is a global network of 52 affiliates and more than 100 off-site locations worldwide. The organization is determined to play an active role in the healing process of cancer patients, and those affected by cancer who walked through their doors (family members, friends, etc.). Founded in 1990, the Cancer Support Community of East Tennessee (CSCET) has steadily grown, moving into a much larger physical space, serving an increasing number of adults each year, and supporting children whose parents or loved ones have cancer.
To date, CSCET has served more than 11,000 people impacted by cancer. With programs like professionally facilitated support groups, health and wellness courses, stress management services, social gatherings, and more, all services offered by CSCET are completely free of charge and designed to enhance physical and emotional well-being and quality of life through patient's time of need. But, when you are so dedicated to helping those affected by cancer, how can you manage the day-to-day dealings of Human Resources (HR) and payroll while supporting family members and friends who have loved ones suffering from cancer?
The Opportunity
Because CSCET was such a small nonprofit when they started, they could only afford to purchase individual health care policies for their employees, which were expensive and lacked vision, dental, and life insurance. In addition to the pricey health policies, CSCET outsourced payroll to another company. "We had everything outsourced in different directions. It was complicated and expensive," explains Beth Hamil, Executive Director of CSCET.
The Solution
In 2011, LBMC Employment Partners' (LBMC EP) business development department reached out to CSCET, offering their HRO and PEO services. After LBMC EP performed a cost analysis and educated the board on PEO benefits, CSCET knew they found a great fit. "It's hard to understand programming, and finance, and marketing, and personnel, and other things when you're the executive director of a small shop. When I can rely on somebody like LBMC EP to help me with all the personnel, benefits and payroll matters, then I can spend more time on my members, our community, and outreach — the things that are most important. The work that LBMC EP handles is a blessing — I'm thankful that I don't have to spend time on it," continues Beth.
Now that CSCET is part of LBMC EP's PEO program, they can purchase much better insurance options at a lower cost, the stress of handling any HR or payroll issues is alleviated, and CSCET has a lot more free time to focus on what really matters — caring for the lives of those affected by cancer.