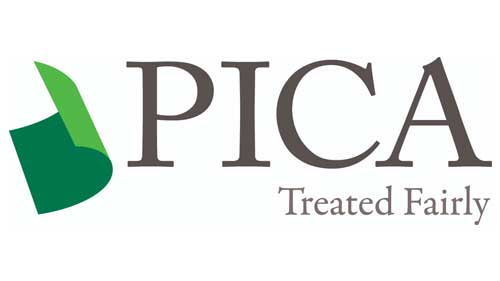 User Acceptance Key in Enterprise-Wide Success for Imaging, Workflow, and Integration
The Podiatry Insurance Company of America (PICA), the nation's leading provider of liability insurance for podiatric physicians for more than 25 years, is dedicated to protecting and supporting practices. Involved in virtually every aspect of its practice, streamlining business tasks with enterprise content management (ECM) technology ensures quality, prompt action and response to their patients and clients.
PICA purchased OnBase, an integrated suite of ECM software solutions, including core capabilities in document imaging, electronic document management, workflow, COLD/ ERM and records management. PICA worked with LBMC Technology Solutions, an OnBase Authorized Solution Provider, to develop and deploy an OnBase solution that would support business growth strategies and overall technology architecture.
Developed by Hyland Software Inc., OnBase was chosen for a host of reasons. PICA allowed a significant percentage of its user community to participate in the vendor selection process, and the staff was most impressed with the OnBase user interface. Considering very few employees had previous experience with an imaging system, they felt that OnBase provided the best user interface for them to make the "paperless" transition.
OnBase supported virtually every business requirement that had been presented, and PICA's technical staff also felt that OnBase fit well into the overall architecture. Setup and configuration are so easy that they could realize savings immediately. PICA also uses additional third-party applications to simplify business processes, and the integration between OnBase and those systems has been very successful.
The decision to purchase OnBase was not easy, but PICA's business users have never regretted the decision they made. One reason is that the level of service provided by both Hyland and LBMC staffs has exceeded PICA's every expectation in deploying a solid solution for its imaging and technology needs.
Paperless Setup Saves 30 Minutes Per Claim
As part of a "baby-step" approach to accustom users to the technology, the Claims Department was the first to begin using OnBase. The process for creating paper files was eliminated; all new claims and existing claims from the previous four years were scanned into OnBase. Developed in cooperation with the Imaging Steering Committee, the incremental approach "allowed the claims community to become accustomed to OnBase, but did not immediately impact current active cases," says Mike Sole, senior project manager at PICA.
Within a few months of introducing document imaging, PICA introduced an e-form for new claim/incident reporting. This allowed PICA to review its current process of collecting information and enhanced the form to better accommodate the capture of critical information. It also allowed the initial entry of the claim to go through a workflow rules process to capture potential inconsistencies (e.g., coverage gaps) on claim setup rather than later in the claims process.
After the e-form is completed, submitted and transitioned through the rules process, all information is automatically populated in PICA's OASIS administration system from Delphi Technology, and an initial attorney assignment fax is generated. Simply automating this one process saves PICA approximately 30 minutes per claim setup.
Virtual Tabbed Folders Ease Transition for Users
PICA's staff was accustomed to working with massive patient, physician and practice files, so replacing file cabinets and folders required a significant shift. Despite the fact that electronic files would be less unwieldy and easier to locate, change is not always easily accepted. To minimize the impact of the cultural change, PICA decided to use the folder-view approach. These folders are set up in an easy-to-use presentation that mimics the organization and tabbed view of a paper file while ensuring that documents are present and appropriately filed.
By planning documents types and document type groups very precisely, PICA arranged the documents in such a way that they were simple to locate. Beginning with 85 to 90 document types that consisted of operation notes, bills, laboratory results, invoices and much more, PICA narrowed them to eight document types that directly match the folders' tabs.
Based on the PICA employee's job function, they may only need to see specific sections of a file. Those sections resemble what tabs separating information in a file would look like and all pertinent information is included in that section. Because certain users only need to see specific information, userdefined rights can be configured by document or document type. Having this capability decreases any confusion users could have with an overabundance of information and protects privileged information.
In the Claims and Policy departments, legal cases need to be thoroughly reviewed before any decisions can be made on them. Independent Podiatry Consultants (IPCs) are retired doctors who work on a rotating schedule, three months at a time, to examine the claims and determine if PICA should settle a case or go to court. These doctors only need to see certain documents such as correspondence and medical reports.
Before foldering, it was hard for the IPCs and other employees to quickly get the specific information they were looking for. Hit list queries would bring back a large amount of information, making it difficult for the IPCs to locate the information they were looking for to make their decisions. The doctors prefer the electronic folders because they look just like the previous paper folders, and they can navigate through these intuitive electronic versions with the same ease.
"I think we made a good decision to match our document types to our current file tabs. This allowed us to easily configure a similar look and feel with the new virtual folder," explains Sole. "This made the job of the IPC much easier because it not only looked like their old paper file, but because it was electronic, it provides a great benefit of allowing searches for a specific word, phrase or document, a capability that wasn't possible in the paper file." Sole attributes the folder view as key factor for the high level of user acceptance seen at PICA.
Workflow Eliminates 3,500 E-mails Annually, Assures Accuracy of Rates
Despite its modest size, PICA is licensed in 47 states, so the process of managing rate changes requires significant resources. In the past, when a rate was approved, an e-mail was sent to the project manager and a work order was then submitted to IT. Another e-mail was sent to the testing group, which then e-mailed any issues back to the project manager. Finally an e-mail was distributed for a scheduled move to production, and then a confirmation e-mail was sent when the move was complete. One of the underwriting staff would then print copies of the latest rate sheets, and manual updates were made with each approval. Because the final step was a manual process, users never felt that these rate sheets actually matched the information in OASIS.
PICA streamlined the process and eliminated most of these steps with OnBase. Now, the rate approval e-mail is imported directly into OnBase Workflow via OnBase Integration for Microsoft Outlook. A designated user verifies the information and can then make the update to test and production. Once the update is made to the production environment, the updated rate information is displayed on a Web portal developed by PICA. This new process eliminated approximately 3,500 e-mails a year, and users are confident that they are viewing accurate and current rates.
Paper Files and Manual Processing Eliminated in New Business and Policy Services
Starting fresh at the beginning of 2006, PICA decided not to create any new paper files for new policy applications, and all new applications and correspondence go directly to an OnBase folder rather than a paper one. This provides immediate access to images for even the most recent documents and allows back scanning to continue with minimal impact to the normal policy workflow.
Most of PICA's business is based on the renewal process. PICA deployed a solution to image all incoming Renewal Questionnaires (RQs) and process them according to defined rules. Similar to the claims process, this project has automated the data checks and rules processing that were many times missed during manual processing.
Sole has dubbed 2006 "the year of transition". PICA has rolled out new processes, redefined existing processes and scanned in a growing volume of paper files – all to a user community where only four individuals in the entire company had ever worked with an imaging system before. "The year of transition means things will get likely get slower before they get faster. Before OnBase no one had seen an imaging system, so we are making a transition. We are at the right pace and really doing a lot," notes Sole. "Their world has changed, but they can already see the benefits"
With the help of OnBase, PICA has deployed a tremendous amount of new functionality to the business areas. PICA is next looking to deploy OnBase in Human Resources and Finance, as well as implement additional enhancements to the renewal process. "The real advantage of OnBase" Sole concludes, "is that it allows you to quickly deploy solutions that can be flexible to the needs of the business."
AT A GLANCE
The Podiatry Insurance Company of America (PICA) needed a solution that provided accurate information in real time to process and manage its clients' business needs while supporting a strategy of growth through expansion of additional "low-touch" business.
BENEFITS
More accurate claims processing because claims/incidents are submitted via an e-form, populated through PICA's administration system real time and processed based on a defined set of business rules
Disburses no paper on rate updates; all updates are communicated electronically
Cleans the business process without user interaction via workflow rules process
Improves quality and consistency across business processes
Safeguards PICA and its insured in the event of a disaster
Improves customer service support to provide immediate information to customer inquiries
APPLICATION
Claims
Regulatory
Claims/Policy "backfile" Scanning
Podiatric and Chiropractic Marketing
Podiatric and Chiropractic Policy Services
Underwriting
ONBASE SOFTWARE
Archival API
Production Document Imaging
EDM Services
Batch OCR
E-mail Integration for Outlook®
Digital Signature
Virtual Print Driver
Workflow
Web Server
Collaboration
Document Composition for Microsoft® Word
COMPLEMENTARY PRODUCT INTEGRATIONS
Five Canon U.S.A DR-9080C High Speed Scanners
Kofax Image Products Inc. Adrenaline™ scanner controllers and Virtual ReScan® (VRS) image quality software
Front Range Solutions U.S.A. Inc. GoldMine® Marketing Management Suite
Trinisys ® Data Entry System
Delphi Technology Inc. OASIS Insurance Processing Software