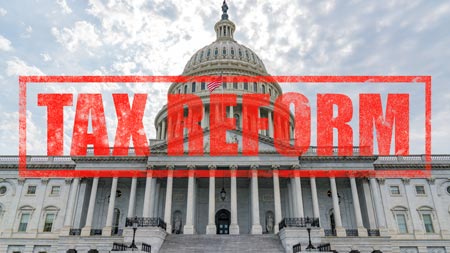 The Tax Cuts and Jobs Act (H.R. 1) has been approved by Congress and signed by President Trump. After a last-minute procedural glitch that required the Senate to vote first on the final bill, the most sweeping change to the U.S. tax code in decades cleared the Senate, 51 to 48, in the early morning hours of December 20, followed by House approval, 224 to 201, later the same day. President Trump signed the bill into law at the White House on December 22, 2017.
President Signs Sweeping Tax Overhaul Into Law
This final bill carries a January 1, 2018, effective date for most provisions.
The Conference bill would impact virtually every individual and business on a level not seen in over 30 years. As with any tax bill, however, there will be "winners" and "losers." The bill calls for lowering the individual and corporate tax rates, repealing countless tax credits and deductions, enhancing the child tax credit, boosting business expensing, and more. The bill also impacts the Affordable Care Act (ACA), effectively repealing the individual shared responsibility requirement.
Many of the changes to the Internal Revenue Code in the Conference bill are temporary. This is true especially with respect to the provisions of the bill impacting individuals. This decision was made in order to keep the bill within budgetary parameters, but with no guarantees that a future Congress would extend them.
Highlights:
37-Percent Top Individual Tax Rate
21-Percent Top Corporate Tax Rate
New Tax Regime for Pass-throughs
Individual AMT Retained/Modified
Federal Estate Tax Retained/Modified
Corporate AMT Repealed
More Generous Expensing
International Provisions