What is an enterprise content management system?
Enterprise content management (ECM) is an established set of processes, strategies, and equipment that enables businesses to easily collect, organize, store and distribute vital data to employees. ECM is changing fast, as new types of information are being introduced into the environment. This software is aimed at automating the management of information in centralized databases and using these digital assets in business processes. Content management is not simply a technology or process but a skilled combination of both.
What is document management?
Document management is software that captures, tracks, and stores digital documents including PDFs, word-processing files, and digital photographs. Document management is a step in the processes of an ECM. Enterprise content management is often called document management. It manages all aspects of the content of organizations.
A reliable document administration system needs a simple user interface, document-sharing tools, mobile capability, and version management functionality. This allows you to work together on a single document without having to be in one place.
What is the difference between ECM and CMS?
While CMS lets users create documents using Microsoft Word or similar applications, ECM enables the management of images, audio, and many other visual materials for displaying.
The document management landscape is shifting with ECM solutions.
The enterprise content management (ECM) capabilities of the past no longer fully reflect the way users create, use, and interact with information. Check out the resource below to learn more about the shift to content services, key capabilities to consider, and steps you can take to embrace a solid strategy.
Document Management: Top 15 Frequently Asked Questions (FAQs) for OnBase
1. How much does OnBase cost?
Our goal is to make selecting and implementing OnBase as easy as possible to maximize your investment. Pricing has been included on our website and includes software and services at very competitive price points.
2. What is the difference between the three levels of OnBase's subscription?
With Essential, you get the lion's share and power of the OnBase platform, including the capability to have codeless integrations with the systems you use every day such as Outlook and your ERP system.
With Advanced, you get the added benefit of the latest innovations in Intelligent Automation and Workflow, eliminating manual tasks and giving you increased visibility into your business processes.
With Premier, you experience the true differentiator of the OnBase platform. Rapidly create any number of data applications that you may be managing today in access databases or spreadsheets.
3. With Premier, do I have to pay a user license for each application?
For example, if I create an HR application for our employees and then maybe an IT Help Desk application, do I have to pay for that user twice?
Great Question! The answer is no and it is here that you quickly see the return on your investment. Once a user is licensed for Premier, they have access to any application you develop on the OnBase platform.
4. I thought OnBase was a Document Management solution. I'm not sure I understand the Rapid Data Application part.
Paper is so 1990's! We all realize today that "information" flows thru your organization and not just documents. You can take advantage of all of the collaboration, auditing, retention policy management, and workflow and review capabilities that OnBase offers on information that may not even have a document associated with it. There is a real opportunity here to reduce the number of systems you manage and pay for today and migrate those into a single, fully integrated solution.
5. Is OnBase available in the cloud?
Yes! You can purchase OnBase as an On-Premise solution or on the Hyland Cloud. With the Hyland Cloud, you get a secure and reliable infrastructure and Hyland manages freeing you from the worry of server management, licensing, and backups.
6. If I purchase OnBase On-Premise, can I still deliver that as a web-based solution to my employees?
Yes! OnBase gives you the option of multiple clients including a thin client that is zero footprint that will run on Windows, Macbooks, or Chromebooks.
7. How long does it take to implement OnBase?
Depending on whether you select on-premise or the cloud, the system can be set up within a day. What typically drives timelines is on the client-side and is based on the availability of resources, etc. Most solutions can be delivered within three months or less, but the important thing to remember about OnBase is that you can expand the solution and deliver additional value across the organization and applications for the next 20+ years.
8. Can I use OnBase outside of AP?
Yes, yes, yes!! In fact, for every additional solution you deploy to OnBase, your return on investment only increases. Common use cases outside of AP include HR, contract management, vendor management, new application processing, renewals, and claims in insurance, compliance with annual security assessments, IT support help desks, loan processing, grant management, new student enrollment, etc. Anywhere you have information coming into your organization, manually entering or processing or approving that information, and wanting visibility into that process is a great candidate for OnBase.
9. Does OnBase offer a training program?
Yes. OnBase offers training programs for individuals to achieve certification and support recognition, a community website where you can read about the product and collaborate with other customers, and a premium subscription package to view an entire library of training videos and hands-on activities.
10. What does support look like?
At LBMC Technology Solutions, our goal is to intimately know your business and provide guidance in insight into how technology can assist you as you grow. Based on that level of a relationship, LBMC is your front-line contact for implementation and long-term support including strategic planning. Many of our customers blend this expertise with growing internal staff to become OnBase Administrators to help you maximize your investment in the platform. Whatever level your need is, LBMC Technology Solutions is here to support you.
11. How often are features released?
OnBase typically delivers four feature-driven releases each year.
12. How is OnBase viewed in the market?
OnBase proudly claims to have a 97% annual customer retention rate with over 15,000 customers around the world. Gartner and Forrester have both named OnBase as a leader in the industry for several years now based on their innovation and customer engagement.
13. I've heard the culture is great at Hyland/OnBase. Why is that?
Hyland has been serving customers since 1991 and you are correct, it has a reputation for a family and community culture. Named a Best Places to Work, you will find hard-working employees who know how to have fun and engage with customers at a relationship level. You may find one of the employees going down a slide at corporate offices, or getting a haircut with the on-premise barber, or visiting their children at the onsite daycare facility. Hyland definitely has one of the most unique and best cultures in the industry.
14. Do we ever get a chance to interact with other customers?
Absolutely, this is at the heart of the OnBase Community. Each year, OnBase will host its annual Community Live event where thousands of customers gather to interact with Hyland experts. LBMC Technology Solutions also hosts OnBase Community Events (both onsite and virtually) with customers twice a year.
15. How do I get started?
One of LBMC Technology Solutions' account executives can set up a time for you to talk with an OnBase expert. This session is designed to learn more about your business and help you navigate the possibilities and considerations needed as you consider ways to make your business even more successful.
Five Document Management System Best Practices
Every organization has a real need for a document management and enterprise content management (ECM) system. The ability to access the correct version of a document or record is important, but ECM goes beyond that. ECM puts content and documents related to organizational processes ready at your fingertips and remain archived safely and securely.
In today's document-intensive environment, it's important to deploy a reliable document management system to track and manage your corporate business assets.
1. Align Document Management System Requirements to Business Goals
Choose an electronic document management system that supports your business needs instead of reorganizing your business to fit your document management approach. Look at how your business is growing.
How important is remote access to documents?
What role does compliance play?
What does your IT infrastructure look like today – and how will it change?
What are your key business concerns-agility, flexibility, security?
Be sure your document management system satisfies your current and future business requirements.
2. Ensure Reliable Electronic Document Capture
Transform your paper documents into digital files that can be tagged and stored in an electronic document repository for quick and easy retrieval.
Select a document management system that includes document scanning and the ability to index documents. You should include more than just file names. It should include the entire file contents as well as descriptive tags and keywords. In this way, you can be sure you are able to retrieve all relevant information in your searches, whether you are searching on a single word that might be contained in any file in the repository, a "metadata" tag or keyword, or the file name.
3. Secure Access to Sensitive Documents
Compliance dictates that some documents containing personally identifiable information have restricted access and secure sharing. Choose a document management system that utilizes a secure document repository and includes authentication and password protection, so you can control access to documents and track and manage who has viewed them, in addition to receiving notifications or alerts when changes to the documents have been made.
4. Optimize Workflows and Business Processes
Improved business efficiency is one of the core benefits associated with electronic document management. By digitizing your documents and tagging them for rapid search and retrieval, you are reducing the time employees spend looking for information relative to their jobs – and productivity increases as a result.
Be sure your document management system can be customized to support your workflows and optimized for your business processes. Automated tasks and email notifications can help keep employees on track and minimize breaks in workflow procedures.
5. Manage Electronic Document Life Cycles
How long do you keep your electronic documents, and how and when are they destroyed?
Compliance plays a role in this decision, as do your specific business requirements. Be sure your document management system:
helps you track your electronic filing
manage where documents are in their life cycles
know whether they are active, archived or ready for disposal
We offer several document management and ECM products to fit your needs. No matter your requirements, LBMC Technology Solutions has the ECM solution and services for you. Contact us for an objective assessment of the right software for your organization!
Case Study: Bush Brothers
Bush Brothers optimizes Accounts Payable and Accounts Receivable to save $350,000 annually with ECM solution.
The Challenge
Although Bush Brothers and Company's high-volume financial processes were almost all EDI-driven, its AP and AR departments were engulfed in paper. The company's document-intensive quality control processes produced stacks of paper daily at its manufacturing plants. To meet internal and FDA retention mandates, the company stored no less than 90 banker boxes each year onsite before paying to store them for seven additional years offsite. Everything changed once the company found OnBase by Hyland.
The Solution
Working with LBMC Technologies, an authorized OnBase solution provider, Bush Brothers chose OnBase to optimize accounting processes. OnBase also improved visibility across the enterprise, reducing operational costs, dispute resolution time and days sales outstanding (DSO).
Decreases DSO by two days to save $200,000 a year
More than 90 percent of receivables data arriving via EDI are uploaded through a COLD process. OnBase automatically associates the information, as well as any remaining supporting documentation that staff must scan in, with the correct order. When processing orders, staff instantly see the order in question as well as the associated bill of lading and packing slip.
The time saved looking for documents – equivalent to a two-day reduction in DSO – is now used for higher-value tasks like analysis, reporting and auditing.
"With OnBase, we've seen drastic DSO improvement – we save $200,000 annually," said Jim Derrick, IS manager for Central Services-Applications at Bush Brothers. "Staff now spend more time on deduction audits and service. They focus on tasks that bring dividends."
Supports company growth with fewer staff
By automating processes and storing documents electronically, Bush Brothers no longer needs to hire temporary staff for year-end audits, nor did it need to fill two vacated full-time positions, despite company growth. Combined, the reduction in staff saves Bush Brothers $150,000 annually.
Staff scan invoices and related documents into OnBase from corporate offices and manufacturing plants across the U.S. Using data from the company's financial management system, Infor Infinium, OnBase automatically indexes the information, eliminating the need for staff to manually index each document.
The Difference
Speeds exception processing: Before OnBase, employees had limited access to necessary documentation to resolve disputes and issues. Staff called the distribution warehouse and had to wait a week or more for needed documents to be found and delivered.
Now, OnBase gives staff instant information access to resolve disputes and issues within minutes – not a week.
Reduces labor costs: "Without OnBase, we would have to double our staff to do all that we do today," Derrick said.
Improves compliance support: By storing information electronically, OnBase speeds audits of capital projects and FDA quality standards, allowing staff to focus on other initiatives.
Case Study: Haulers Insurance
Haulers Insurance Company was established in Tennessee in 1986 as a regional property and casualty insurance company, offering personal and commercial automobile products and services. Since that time, the company has expanded to Alabama, Georgia, Indiana, Missouri, South Carolina and Virginia.
Today, more than 700 independent insurance agencies provide Haulers' insurance products. Until 2005, when Haulers discovered OnBase by Hyland Software, the company was completely reliant on paper records, filling up floor space with bulky filing cabinets and leading to inefficient business processes. The sole job of several claims assistants was to manually enter and set up new claims submitted through the website — a hands-on and tedious task that left little or no time to work directly with customers.
Today, OnBase automates that entire process. Haulers no longer uses paper documents at all, and the company has streamlined everything from processing claims to managing accounts payable so that checks get out the door on time.
The Challenge
One of the greatest challenges of relying on paper documents was simply the time and energy it took employees to search through 30,000 files for the ones they needed, and then refile them. The three secretaries who manually entered claims had virtually no time for other tasks. Even though the claims were submitted digitally through the Haulers website, there was no way to get the information into Haulers' computer system without retyping it. The systems could not "talk" to one another. Accounts payable was a manual process, too. There were no checks and balances to make sure payments went out in a timely manner.
If an approved claim had been sitting around too long without payment, no one was automatically notified, delaying the speed of some payments. There was also no fraud-prevention system in place to track who was signing off on checks and sending them. In addition to only using paper, other business processes were antiquated. Haulers was still using a tape recorder to create audio recordings of client calls. Reviewing those tapes was tedious. In addition, if the tapes were lost the record was simply gone.
The Journey
Haulers Insurance began using OnBase in 2005. The company president did his own research to find a system that would eliminate paper records and improve business efficiency. At first, Haulers was using OnBase solely for scanning and retrieval of documents — a valuable function of OnBase, but a fraction of its full capabilities. While Haulers was initially working with a technology consulting firm for their basic installation, they recognized that to move forward they needed a partner with more advanced OnBase skills and specific knowledge of the insurance industry.
Then, around 2008, the company discovered LBMC Technology Solutions, a multi-award winning firm also based in Tennessee. They were in need of a way for claims representatives to manage all information coming in — including files and phone recordings — as well as all facets of a claim — legal, injury, salvage, subrogation — with a single computer system. LBMC built a system with OnBase as the foundation to house all incoming documents, data and phone call recordings in one place. Using their knowledge of the industry and their technical expertise, LBMC created a system that completely streamlined the claims process.
Today, Haulers uses OnBase for a variety of tasks, including claims and underwriting, invoice approvals and some human resources activities. OnBase's modular structure allowed Haulers to start with basic features and add capabilities as they recognized additional needs. More than just a document management system, Haulers discovered that OnBase can be expanded across the entire business to deal with problems caused not only by paper records, but communication barriers, data silos, inefficient business processes and much more.
No paper files to store — Haulers was able to toss all those old filing cabinets, eliminating the need to search for records. All documents and data now live in the OnBase system, where they can be accessed with the click of a mouse.
No manual entry — Claims submitted to the website are automatically pushed to OnBase, eliminating the manual process of entering data, and freeing up employee time to focus on customer service. OnBase automatically starts processing the claim without the need for retyping or indexing.
Automatic notifications — Automatic interdepartmental notifications are sent to alert underwriting of claims activities. For invoicing, if an approved payment sits in queue too long, an email goes out reminding accounts payable to issue a check.
Speedier processing — Claims can be processed much faster without the need for paper files and manual entry.
Better collaboration — multiple employees can view documents at the same time from different locations. If a claims adjustor needs to ask an underwriter a question, they can talk on the phone and look at the same document together.
Fraud prevention — Controls are in place to make sure checks are not issued when they shouldn't be. OnBase tracking monitors who has approved payments, so that person can be addressed directly if there's a problem or question.
No more data silos — all data and information can be accessed from one dashboard, allowing employees to manage everything from a single location.
No cassette tapes — Digital audio files are recorded and then automatically emailed to an adjustor. Those files are stored in the claims record within OnBase, ensuring they are never lost.
Virtual printing — There's no need to print and scan documents to put them in OnBase. Documents can be transferred directly from applications such as Word, Excel, Notepad, Adobe, email, web pages and many more simply by using the OnBase Virtual Print Driver module.
Convenient file storage — Files are always stored in their native format.
Together, Hyland Software and LBMC Technology Solutions have helped countless insurance companies rid themselves of paper documents, create more efficient workflows, save time and reduce the bottom line. They understand the unique needs of the insurance industry and the problems that can be resolved with technology that is well-designed and well-managed.
If you're ready to give your company a competitive advantage in content management, please contact us for more information.
Five Compelling Reasons to Go Paperless
1. Dealing with Catastrophe
Seventy percent of today's businesses would fail within 3 weeks if they suffered a catastrophic loss of paper-based records due to fire or flood. Businesses today absolutely must have good disaster recovery plans in place. Utilizing electronic document management processes and records management practices considerably reduces the time to get your business back online after a catastrophe.
2. Litigation and Risk
Litigation is a major risk for companies and the cost of not knowing where your records are located can be staggering. For instance, one large financial services company paid more than $16 billion in litigation costs over a three-year period.
Every organization needs a records retention schedule with a written policy that determines which documents are created and retained, by whom, and in what location. Employees who don't adhere to these practices put an organization at risk, especially in times of audit or litigation. Going paperless and using an enterprise content management software tracks processes and ensures employees adhere to policies.
3. Remote Access
Forbes recently projected that within the next five to ten years over 50% of the US Workflow will be working remotely. Having a system where employees can have remote access to documents, or more importantly, information on those documents wherever they are and whenever they need it will be a crucial strategy for growing companies.
4. Automation
Companies are in the midst of the digital transformation age. This includes smart devices, AI, and connected applications. Customers expect higher levels of service and companies are competing and winning these customers when they can optimize organizational efficiency. Gone are the days where you can take a stack of invoices, drop them in someone's desk for approval, and then manually key information into your processing systems. Automation is only possible when you take advantage of best in class practices to maximize efficiency and scalability. It is clear that companies that manage their content well, gain visibility, control critical processes, and achieve a higher level of excellence.
5. Integration
Information is everywhere and in a multitude of systems. Historically, software solutions focused on specific areas of functional expertise, developing and supporting systems in a very siloed approach. Today, companies must be able to successfully integrate these systems to gain better data insights for their organizations and their customers. It is critical not just to make your paper electronic but to select systems that have this integration in mind.
Intelligent Process Automation — What it is and why it matters
As your digital transformation strategy evolves, one critical area to develop is Intelligent Process Automation (IPA). For years, vendors have sold solutions that converted paper documents to digital documents. This approach was a good first step in the move towards digital transformation. However, solutions today are much more powerful.
Information is more than digitizing documents
Converting your paper documents to digital is only part of the equation. Now, in your business, massive amounts of information flow into and out of your organization and, quite often, there isn't even a document associated to the process so we must begin to think bigger.
Workflow should be more than routing documents
Too often, solutions claiming to have "workflow" in their arsenal mean they could route an electronic document from "Bill" to "Tom" since he was the next step in the process. What is evident today is that as information flows through your organization, it is not linear, and many engagement points interact with that data. These engagement points often are not even individuals, but rather systems or data sources. Workflow systems now need to be flexible and dynamic, automatically ensuring that information flows as efficiently as possible and in compliant ways, eliminating manual errors and ensuring better controls.
Integration is key to everything
These goals are only possible if your IPA solution integrates and interacts with systems in and outside of your organization. Too often, document management systems view themselves as another silo-based system in the infrastructure. However, these systems have the potential to collect as much information as possible across disparate sources and build more efficient, optimized processes.
Transform your organization by managing your content, processes, and cases on a single platform.
From invoices to contracts to video files, your organization has a wide variety of business-critical content that's required to support key processes, drive operations and serve customers. When this content is scattered across physical and electronic locations, users waste valuable time searching, with no easy way to ensure the most up-to-date information. To harness the true value of your key content, you need to handle it effectively.
With Hyland's content management capabilities, you organize, manage and optimize critical content originating across your organization, providing users with a complete view of the information they need when they need it.
Leverage document management capabilities to:
Work digitally with business content, regardless of format and where the content currently resides.
Empower users to easily search for documents while leveraging digital folders and file cabinets to keep content organized.
Effectively handle revisions and versions to ensure users access the most current content.
Use notes, markups and electronic signatures, supporting effective collaboration and streamlining processes.
Provide a complete audit history of actions taken on key content for compliance.
Rapidly distribute the right documents to the right employees for required reading and training – easily tracking and proving employee acknowledgments.
Simplify access to documents and information, enabling your users to quickly and easily locate the information they need to complete tasks, make decisions and provide excellent customer service.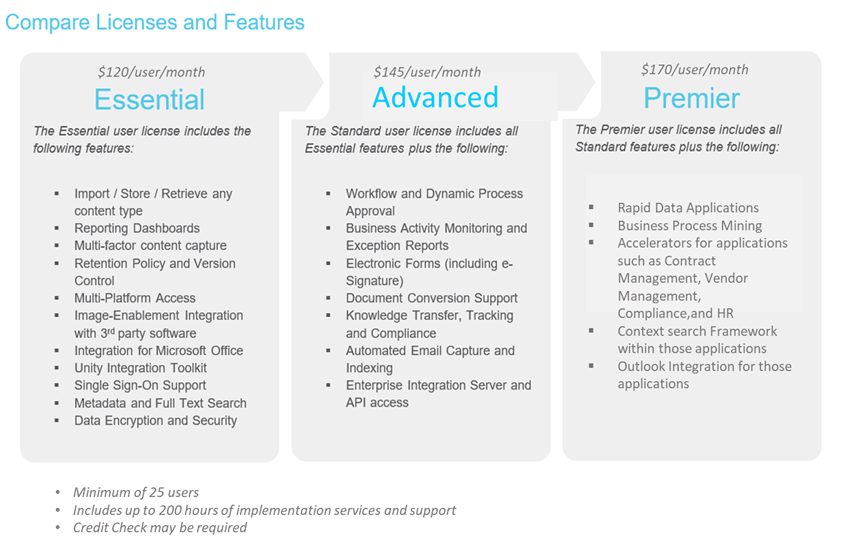 OnBase by Hyland
With Hyland's content management capabilities, you organize, manage and optimize critical content originating across your organization, providing users with a complete view of the information they need when they need it.
SharePoint
SharePoint is a web-based platform that integrates with Microsoft Office. While primarily sold as a document management and storage system, the product is highly configurable, and its usage varies among organizations.
Document Workflow Management: The Hidden Gem of Enterprise Content Management
Sluggish processing, difficulty retrieving files, incomplete information, duplicate work: These are all productivity killers and customer service nightmares for a business just trying to stay competitive. And, yes, automating the management of these documents is tremendously valuable.
But while having a structured repository for your business documents increases productivity, the real opportunity for a business to excel is to drive operational efficiencies by swiftly moving information through your business process electronically. This allows for streamlining cumbersome, manual activities that are typically required but do not provide much-added value to the organization or your customers considering the amount of time spent on them.
In the Enterprise Content Management world, this is called document workflow. And what it comes down to is allowing high-value workers to concentrate on high-value tasks.
For example, think about your hiring process. Having your candidates electronically fill out applications, those applications flowing through a structured review and rating process; and, if further information is requested, gathering supporting documentation (resume, W4, parental consent, driver's license, background checks, etc.), all driven by a workflow engine that automatically moves to the next step once all required documentation has been received.
Think about having this kind of power spread across your accounting, legal, customer service and sales departments. Having all this information cross-referenced and at your fingertips at the click of a button, and all highly secured according to role, can leapfrog your business to the next level.
Workflow management automates business processes, matching work tasks with the workers best suited to them. Once they're finished with their work, the task is automatically moved along to the person best suited for the next step.
How do I know if I need workflow management software?
It's pretty easy to tell if you need document management. Rows of filing cabinets, megabytes of unidentified data lurking on your network, stacks of paper…everywhere.
Where do you spend most of your day?
Where does the majority of your stress originate?
If you answered "work," you may need to consider a content services solution.
Four signs you need a content services solution
Employees are spending too much time doing low-value tasks (searching for documents, waiting for or manually transferring paper files, losing critical documents, duplicating work)
Some employees are swamped with work, while others are idle
Busy decision makers are causing bottlenecks in the process because they must be involved but are regularly unavailable
Employees are cherry-picking work (most interesting, most valuable to them, and so forth) to the detriment of corporate goals
What does ECM mean?
Enterprise contents management (ECM) is sometimes dubbed document management or documents management and this includes document management, contracts, and scanned images.
What is ECM and why is it important?
ECM stands for Enterprise Content Management which is a software collaboration platform that manages, stores, and organizes information for businesses. ECM enables companies to streamline and improve daily operations.
Why is ECM needed?
ECM Software is aimed at helping companies transform a paper document into a digital document, store these documents in an ECM system, and share, manage and extract these documents effectively. Search capabilities. The ECM aims to help businesses transfer away from a paper-based approach and have an easier, cleaner system for records management.
Security features such as customizable access restrictions
Using any document management system (DMS), custom permissions can be accessed within the context of protecting the data. By controlling your DMS you have an additional choice in collaborating and using it.
It allows you to set individual permissions, with access control on a file, and assign it to different people. Without that flexibility, your DMS may not even be valuable for some small business applications. Yet companies of all sizes and industries use permission. Hence access limitation functionality is essential in all DMSs.
Ability to store various file types
Business processes use different files and therefore document management systems must be flexible to accommodate these diverse types of files. In some cases the DMS will require multiple DMSs, causing more work on your team or duplicating your business data system. In general, the software program performs better, allowing for flexibility to simplify business operations.
Search functions for quick location and access to important files
It will help you improve your use of documents. If you can't browse your data, you can't access the documents that are necessary. Different document management systems have different search possibilities. The DMS you choose may depend upon how useful searching can be to your particular usage scenario.
Document history for auditing and tracking
The document can easily be scanned and re-used to ensure that the correct file is updated only after a document has changed. It also aids in documentation compliance as internal rules or regulations are very strict about auditing. Therefore, a DMS that includes audits is vital.
Version control for documents and backup storage
Your DMS should have a paper trail containing traces of your changes. This will give you a chance to go back to the previous version and check for changes in the data. When data is lost or severely damaged, a backup copy is required.
Compliance and security
Security is always a concern in businesses that can often be considered a priority when analyzing a new business solution. Small businesses cannot expect a legal problem immediately, but it's worth thinking about ahead.
Systems that are capable of growing with business needs, combining simple permissions and implementing version control functions will have this advantage. Consider a solution to satisfy regulatory requirements later. Adding redundant security or backup features is a good strategy.
Document Management Software Costs
Software documents have different pricing structures. The biggest cost factor for your document management system can be determined by choosing a cloud and on-premises versions. Cloud-based solutions remove the maintenance burdens of infrastructure and protect it in an independent firm.
While the cost savings are minimal when managing it on-site, you just have to trust that the organization handles it correctly. Cloud-based applications typically cost subscriptions.
Approvals, Sharing & Signatures
There is a situation where a company can simply create a document for the same purpose. Documents, however, are usually meant for sharing. Hence, one of the main areas of any DMS system would be tools that can handle such files.
This ability is minimal in its capacity to improve the efficiency of communication with customers. This feature can be particularly critical for documents with compliance or judicial consequences.
Storage and collaboration
Although it is basic, a document management system should store documents in many file styles. You must examine the requirements of your business in this regard and match them against potential systems before buying. Even today, many proprietary files are still not supported by all DM systems. Besides, DM software will have the option to organize this file with minimal effort or system resources.
3 Ways to Relieve Business Stress with Enterprise Content Management (ECM)
1. Digitize
Whether you have a large back file of documents or a daily buildup of paper you need to process, the first step to going digital is capturing the information from those physical files. There is a breadth of solutions for scanning and capture projects of all sizes and complexity that you can implement at your organization.
The faster your electronic documents are available to your business system, the sooner your users and business processes will benefit.
2. Ensure Access
So what happens when you eliminate that physical filing cabinet? After all, you'll still need a place to store the myriad files, and easily access them as needed.
There's a plethora of document and enterprise information management platforms out there to consider, and it is key to identify a system that meets your needs. Does it offer Cloud options? How is it evaluated by third-party experts? Will it complement existing systems while being able to expand as a unified information management platform down the road?
Every organization is different and has unique considerations that must be met, but the evaluation of these platforms doesn't have to be complicated. If you are just getting started, we have the tools that can help you head down the simple path to make an informed decision and implement the right system for your organization's files.
The trick is to take the time and do the in-depth research necessary to find the right solution – for now and in the future.
3. Automate Standard Processes
Streamlining your core business operations—like being able to access all of your accounts receivables data and documents from one location—can yield significant savings. Regardless of how or where documents are received (electronic or paper), with capture and automated payment posting, you can immediately recognize improved reconciliation processes.
Better audit controls, efficient alerts for remittance and payer issues and reduced costs for payment posting and denials management are only some of the benefits. Defining the appropriate business rules upfront will allow you to orchestrate the appropriate route for your electronic files, giving you the greatest payoff of saved time. And more accurate processes.
All of these areas that improve our businesses in terms of productive time, headaches avoided, and goals accomplished.
Document Management Software Features
While document management software digitizes and organizes documents to make it easy to find and revise with user permission, some features might come with it. What tools should you consider before selecting any document management tool?
Workflow Automation
Automated workflows allow users to move their jobs automatically. Take point-of-sale (POS) workflows for instance. You could automate workflows so that once POs are generated they go directly to the appropriate manager.
The manager receives a notification and the next relevant person will also get a notification from the management supervisor. In some circumstances, it may also allow you to incorporate this into an automated workflow. The best software for a business documents management system allows for the customization of workflows for your team's workflow.
Image scanning
Imaging scanning may be useful for businesses that are interested in the digitization of documents. Scanning provides a way for converting paper files into digital files to export to software or to the computer.
Electronic signatures
Document management software usually holds documents for managers who need to sign like purchase orders. Some document management software integrates with a digital signature tool like DocuSign.
This allows for electronic signature. The software allows you to send documents to recipients with requests to sign by email. So you can increase efficiency by ensuring that clients can sign important documents.
Usability
Software usability is a critical element. It offers the best features on earth. Most document management software offers free testing that can be tried out before buying. Because everybody uses this system, ensure the opportunity exists for all parties to test the system to see if they're satisfied with what the product is.
Discover OnBase with LBMC Technology Solutions
---