Microsoft's Powerful ERP Solution
Microsoft Dynamics GP makes it easier to gain actionable insights and improve process efficiency.  It's customizable, flexible and designed to help you better manage your financials, distribution, human resources, manufacturing, inventory and operations.



​Where do we come in? As a trusted reseller and leading provider of Dynamics GP, we have helped businesses all over the country enhance their success through empowering technology.  Learn why you should partner with us.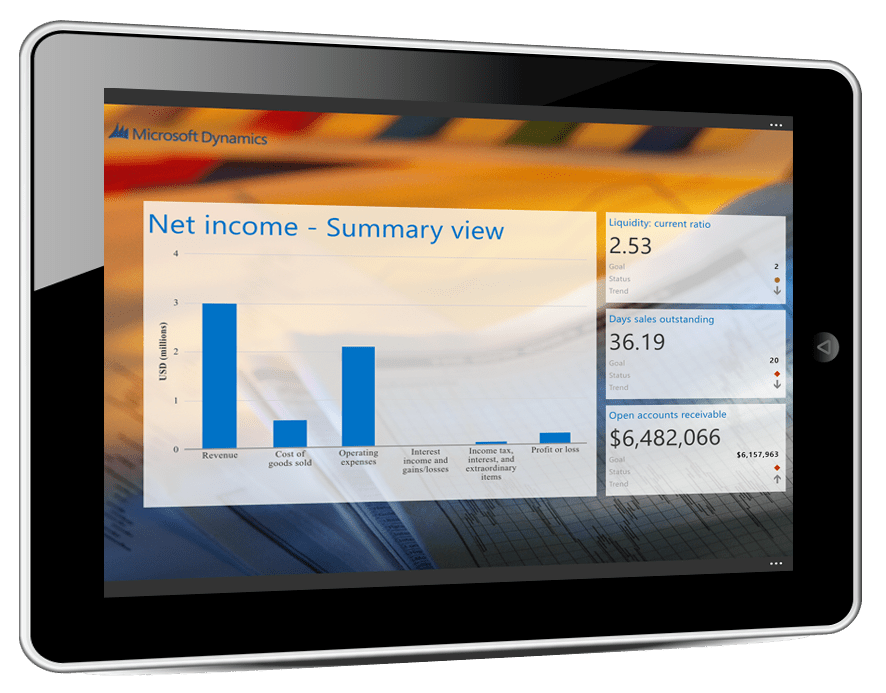 Financial ​Management
Improve financial control with built-in analytics and enhanced account-level security.
Configuration & Development
Modify the functionality of workflows and import data to meet specific business needs.
Business Intelligence ​& Reporting
Easily track performance with real-time visibility, role-specific insight and powerful analytics.
Manufacturing ​Solutions
Forecast sales and manage processing with flexible planning and analysis capabilities.
Supply Chain ​Management
Track and manage production, inventory, orders, returns and vendors all in one system.
​Management
Maintain control over project direction, execution, time and expense and invoicing.
Human Resource Management
Automate processes to hire, train and pay your team while maintaining full compliance.
Customer Relationship Management
Administer contracts, service calls, storage management and preventive maintenance.
Microsoft Dynamics GP Demo Video Library
Microsoft Dynamics GP Pricing
Software

Basic Microsoft Dynamics GP ​software and user/license pricing.

Implementation

Basic Microsoft Dynamics GP ​implementation pricing and time frames.

Modules

Microsoft Dynamics GP module details ​and pricing information.
Software Costs
The numbers on this page represent basic Microsoft Dynamics GP pricing.
| | |
| --- | --- |
| Scope Module / License | Price |
| Dynamics GP Starter Pack* (required – includes 3 full users) | $5,000 |
| Dynamics GP Extended Pack* | $10,000 |
| Full Concurrent CAL | $3,000 |
| Limited Concurrent CAL (read only) | $600 |
| Employee Self Serve (ESS) User CAL | $60 |
| Customization Pack* | $6,000 |
| Extended Human Resources and Payroll* | $7,000 |
Implementation Costs
​Implementation costs vary and can range from a few weeks to several months.  Please note every engagement is unique and your business may require more or less time than the examples listed below.
Module

Time Frame

Price Range

Financials 

(GL, Payables/Receivables, Cash Mgmt., Fixed Assets, etc.)

4 to 6 weeks

$32,000 to $48,000

Distribution 

(Sales/Purchase Order Processing, Inventory Control, etc.)

8 to 12 weeks

$64,000 to $96,000

Manufacturing 

(Bill of Material, Manufacturing Work Orders, MRP, etc.)

12 to 18 weeks

$96,000 – $144,000

Payroll / Human Resources

1 to 3 weeks

$8,000 to $24,000
Disclaimer:  All information provided on this website is subject to change without notice. While ongoing efforts are made to make this website helpful and accurate, due to the nature of the information, InterDyn Artis, an LBMC Technology Solutions Company does not warrant the accuracy of information obtained from this or that it will not change. InterDyn Artis, an LBMC Technology Technology Solutions Company makes no representation or warranty whatsoever regarding the completeness, accuracy, "up-to-dateness", or adequacy of, or the suitability, functionality, availability, or operation of this information it contains.
How to Buy Dynamics GP
Microsoft sells Dynamics GP through a network of resellers who provide planning, implementation, customization, and support services aimed at optimizing the solution for your individual needs. LBMC Technology Solutions follows a trusted sales methodology process when selling Microsoft Dynamics GP to ensure an accurate, reliable, and speedy process. During this process we will help you:
Evaluate ​your business needs, budget, and decision-making process to determine ​if Dynamics GP is a good fit.
Select ​which modules and customizations are necessary to meet your ​business requirements.
Implement ​Dynamics GP by working collaboratively with your team to ensure a successful launch.
Benefits of working with LBMC Technology Solutions
LBMC Technology Solutions has over 30 years of experience in working with Dynamics GP. From the initial search to on-going support, we are with you every step of the way. Benefits of working with us include:
Quick and Efficient – We'll get you up and running quickly with less disruption to your business.
Industry Expertise – Our consultants have industry-specific expertise in a wide array of industries.
Solution Optimization – Our development team can help optimize your solution for top-of-the-line results.
Proven Results – We have over 30 years of successfully completing hundreds of GP projects.
Training and Support – We offer year-round training opportunities and unparalleled GP support.
Dynamics GP Support & Training
Whether you need assistance with troubleshooting, workflow development, or initial and on-going training, our support team is equipped to supply you with the answers and resources you need.
​Support and training include:
On-site & remote consulting
Telephone and email support
Webinars, workshops and conferences
Classroom and tailored training
And more!
Benefits of Microsoft Dynamics GP 
Work smarter and faster

 – make data-driven decisions with reporting and analytics tools to help you make fast, informed decisions. 

 

Improve financial management and accounting

 – easy-to-use software helps you manage your cash, assets, and banking.

 

Quick, flexible deployment

 – get up and running quickly with a solution that is configurable and designed to scale as you grow

 
For more information, visit https://community.dynamics.com/gp/b/dynamicsgp.