David Reynolds
Chief Technical Officer, Technology Solutions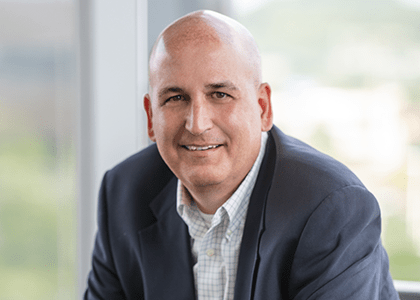 Education
Tennessee Technological University, Masters of Science Electrical Engineering; Bachelor of Science Electrical Engineering – cum laude
David has twenty-five years of experience in the development of software and business intelligence solutions for clients in a variety of industries including healthcare, professional services, state/local government, manufacturing, and others.
Experienced in all phases of the software development life cycle, David has worked closely with clients on requirements gathering, user interface and database design, software development, system testing and project management. David is the software developer of the LBMC LIFO software.
Additionally, David has been engaged with clients in several business intelligence projects including data warehouse design, ETL development, reporting, and dashboard/scorecard development. David's exposure to a number of different industries allows him to bring a broad and practical experience to addressing a client's need.
Joining the company in June 1996, David was one of the founding partners of LBMC Technology Solutions and since that time has overseen the growth of the software development and business intelligence practice areas.
Prior to joining LBMC, David was a manager in the Technology Services Group of Andersen Consulting.
Experience
Actively involved in the development of numerous line of business applications for clients in the insurance, professional services, manufacturing, and healthcare industries.
Have worked with multiple clients on the development of automated interfaces between off-the-shelf packages and custom developed solutions.
Experienced in web-based and desktop (client/server) based application development.
Multiple years of experience in the design and development of relational databases supporting large scale transactional volumes. Very experienced with multiple components of Microsoft SQL Server in particular including Integration Services, Reporting Services, Analysis Services and tabular data modeling.
Experienced in the automation and integration of Microsoft Office (Word, Excel, etc) into custom developed solutions for reporting and data integration purposes.
Experienced in the management of development teams for projects of all sizes and on numerous platforms.
Developed an expert based solution for the Tennessee Department of Corrections that was recognized by the American Association for Artificial Intelligence as one of the most innovative applications of Artificial Intelligence for the year 1993.
Community Involvement
David has been active in and continues to support many professional and civic organizations, including:
Past Member of the Board of Directors, Nashville Technology Council
Member, Technology Special Interest Group, Leading Edge Alliance
Grassland Athletic Association Baseball, Softball and Basketball Coach
Grassland Athletic Association, Baseball Board Member – three years
Active member of the Harpeth Hills Church of Christ
Volunteer with Napier Community Center, Habitat for Humanity and disaster relief efforts on Gulf Coast.
Host family for two exchange students (Guatemala and Hong Kong)
Outside the Office
A native of North Carolina, David resides in Franklin, Tennessee, with his wife and three children. In his free time, David enjoys photography, golf and watching his kids play sports.