Stacy Schuettler
CEO, Technology Solutions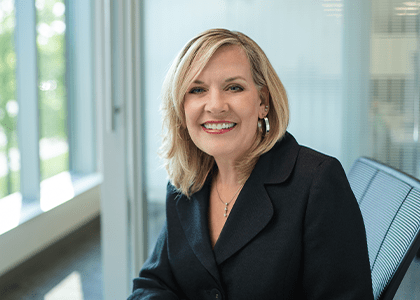 Education
East Tennessee State University, Marketing & Accounting, Magna Cum Laude
Stacy Schuettler is the President of LBMC Technology Solutions, LLC.
She, quite simply, has an obsession for helping organizations run more efficiently. She understands technology but, more importantly, she understands business.
As President of LBMC Technology Solutions, Stacy establishes and communicates the overall vision and strategy of the company while also overseeing the execution of this strategic vision. Under Stacy's leadership, LBMC Technology Solutions has grown significantly and is continually recognized on a national level as being a top performing IT consulting company due to their depth and breadth of technical expertise and customer satisfaction and retention levels.
Stacy has an extensive and diverse background in developing and managing IT consulting businesses. Her IT career started at IBM and then ComputerLand Corporation where she was responsible for selling computer hardware and software. Her technical sales experience expanded into providing general business and technology consulting services as well as project management functions. Stacy developed a passion for assisting clients in defining technology solutions that support their business functions and goals. Stacy was founder and President of IT Solutions, which merged with LBMC Technology Solutions in 2005.
Fueled by her own entrepreneurial spirit, Stacy consults with her clients to implement tailored solutions that integrate people, processes, and technology to mitigate business risk, reduce operating costs and enhance customer and employee satisfaction.
Outside of Work
Those who know Stacy know she has boundless energy and many interests. She has a passion for children and many community groups. Whether mentoring young girls through a local STEM program, slinging a hammer on a Habitat for Humanity build, or raising money for Alzheimer research, she brings her whole self to the cause. Her hobbies include designing and building homes, making gifts and crafts for her clients, family and friends, and being outdoors as much as possible.