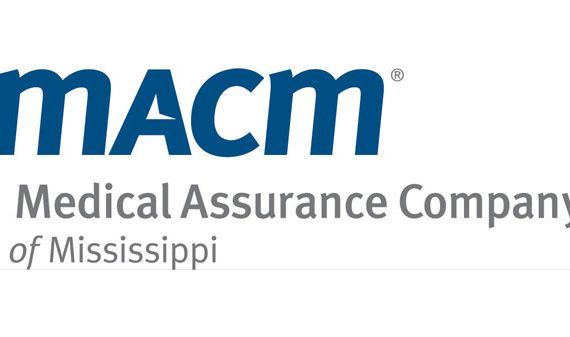 Paperless Process Efficiencies Expedite Claims, Improve Member Service
"Service is not only our most important product, service is our only product," states Chuck Dunn, vice president, Claims and Chief Operating Officer of the Medical Assurance Company of Mississippi (MACM). Founded in 1976 by members of the Mississippi State Medical Association, non-profit and still physician-owned, MACM successfully provides quality, affordable liability insurance to its members and is dedicated to putting policyholder best interests first.
In looking to provide increased support for its members and to achieve better process efficiency, MACM noted that a major hinderance to both were the paper processes engulfing the organization for both claims and underwriting. MACM had been scanning policies, claims and associated documents to an AS400-based imaging system for years, but realized that the electronic images were being used primarily as a backup—not where they were needed most, when employees were on the phone with an insured or other party involving a claim.
MACM wanted to find a solution that would better extend electronic document benefits to all business units in the company and so researched electronic document management solutions that would easily extend across the enterprise as business requirements dictated. Requiring a proven solution, MACM turned to the Physician Insurers Association of America (PIAA) for referrals of enterprise content management (ECM) solutions. After evaluating several ECM systems, MACM selected OnBase, offered by LBMC Technology Solutions, an Authorized OnBase Solution Provider.
OnBase was selected because of its sound references from existing customers, its ability to integrate easily with existing line-of-business applications and its proven history of continual product development, not only in the insurance space, but in a variety of vertical industries.
"We visited a customer site in Nashville recommended by LBMC, and they went on and on about how flexible OnBase is, and how great their solution was," remembers Alan Jones, MACM IT manager. Additionally, Jones offers, "We thought that OnBase offered more of a well-rounded approach to product development. Because of its greater range of knowledge base, it offered solutions based on the best-practice experience of many industries, not just insurance."
Developed by Hyland Software Inc., OnBase is an integrated suite of ECM software solutions, including core capabilities in document imaging, electronic document management, workflow, COLD/ERM and records management.
Comprehensive Claims Management with ECM Interoperability
Before OnBase, most of the processes in the claims department were manual, paper-based and slow. In addition to entering claims information into the AS400, representatives had to manually keep track of all paper documents associated with claims files. "Prior to OnBase," states Dunn, "We constantly trundled dozens of bulky bill files and lengthy billing documents from workstation to workstation to file storage and so on. Stacks of paper files, paper clutter and file carts physically clogged our operation." Claims bills were physically attached to paper voucher forms and sent to claims representatives for approval, then a daily buggy of approved paper bill files would be taken to the accounting department where checks were cut. The buggy would then come back to claims for the paperwork to be filed.
Margie Angulo, Senior Claims Secretary agrees, "This was all very time-consuming, but, OnBase has eliminated all of the above." With OnBase, the claims process is automated, simplified and almost entirely paperless.
Now, when a physician calls in to report a claim, the claims representative fills in an OnBase electronic form (E-Form) which, upon submittal, is automatically routed to the claims secretary. When the claims secretary receives the E-Form, she enters the information into the AS400 to register the notice of claim and enter both the claim notice data and diary dates—which are autoreminders to follow up on the claim. When the claims secretary submits the E-Form, OnBase Workflow cre
ates a WorkView object, which is an interactive log that tracks claim details and events for the life of the claim, including notes on relevant phone calls and communications. OnBase WorkView provides a claims management front-end, point-and-click configured to meet MACM's specific needs that allow staff to work most efficiently. Claims staff no longer have to go to multiple systems, filing cabinets or employee desks to obtain information; they can access any needed claim data, history or related documents from one central location that is easy to use. Staff easily review and enter notes into the claim file, and management has special filters enabling the instant status of multiple claims. Daily, complicated AS400 queries no longer have to be requested and run from the Business Systems Analyst department to provide reports to staff. Now, file listings are available to any authorized user, right from their desktops. In addition, OnBase is updated nightly with current information from the AS400, ensuring continuity so that staff can provide the best service.
ECM Efficiencies Eliminate Billing Backlog
Although MACM had an electronic billing process in place before implementing OnBase, it had limitations surrounding document access that made employees prefer to use paper files, contributing to a constant backlog of vouchers needing to be paid.
With the collaboration strengths of the OnBase solution, billing process turn-around times are significantly improved. All bills and correspondence from the defense counsel are now e-mailed to the claims department instead of sent as paper correspondence so that claims staff can easily import the electronic documents directly into OnBase. All other daily mail is scanned into OnBase and automatically associated with the correct claims or files.
Claims employees now receive electronic payment vouchers, review the attached bills and supporting documentation, resolve any questions regarding the bill, annotate documents as needed and approve or disapprove the payment right online. The entire process is tracked with an auditable history, and paid bills are stored electronically along with the rest of the claim file's documents, instantly viewable when needed by any authorized user. Before OnBase, voucher payments were three months behind; now they are never behind.
Because users are able to find what they need immediately, cycle times are reduced and member service is vastly improved. Most questions from insureds, other firms or MACM's defense counsel are able to be handled within seconds right on the initial phone call. Instead of flipping through volumes of paper, users quickly locate specific documents, including photos and radiographs, that are organized in OnBase Folders with the click of a button.
If the actual file is requested by defense counsel, OnBase Envelopes provide the ability to provide the file in a matter of seconds, instead of requiring employees to spend valuable time photo-copying the file and sending paper documents through interoffice mail.
An end-to-end solution, when it is time to close the claim, employees initiate an E-Form right from the WorkView claim screen that is routed through approvals with OnBase Workflow. Angulo states, "OnBase has made a tremendous difference in my everyday duties." Todd Savell, Claims Manager agrees. "The conversion to OnBase has been a very positive experience and has significantly improved Claim department efficiency, quality and the content of our claim management system."
Automated Renewals Enable Real-Time Service, Cost Savings
"Things are not nearly as hectic in the Underwriting Department since OnBase," shares Joyce Perry, MACM underwriting manager. The automated OnBase solution has saved time and frustration for employees and insureds alike by managing quarterly renewal and correspondence files electronically in one central storage location, accessible to all departments.
When underwriting receives an application for renewal, it is scanned into OnBase and is sent by Workflow to five approval authorities, including the CEO, who are able to comment on the E-Form. When the application is routed back to the underwriter and any associated communication is addressed, she opens the insured's account in the AS400 and with Application Enabler, extracts keyword values to apply to the application. Additionally, timers automatically apply the keyword values to all supporting documents as they are imported into OnBase.
Before OnBase, paper files could be stalled for hours or days while being worked on someone's desk, which inevitably led to delays in processing requests. Now, rather than seeking out where files are in the approval process, or walking paper files to other offices to collaborate on issues, employees can apply notes to the electronic documents and review them together over the phone, right from their respective desks.
In addition, cost savings include both the avoidance of off-site storage costs (currently $9,000 per year) as well as a $250.00 fee each time files are moved to or retrieved from storage. "Each paper claim file could easily be a three foot stack of paper," states Cheryl Rhoads, Business Systems Analyst.
"OnBase Document Management software has given staff the ability to focus upon customer service and file quality issues," affirms Dunn. "OnBase is much more efficient than we ever hoped."
AT A GLANCE
Physician-owned, non-profit insurance company avoids paper-based inefficiencies and vastly improves throughput and service by implementing enterprise content management (ECM) across the organization. Paper-based delays resulting from manually leveraging physical documents are virtually eliminated, providing better member service, improving cycle times and reducing costs.
BENEFITS
Improves member service
Increases quality of claim files, reduces cycle times, increases accuracy
Interoperability with existing systems provides all necessary data and documents from one central location
Ensures visibility into processes to better manage and adjust workloads
Provides accountability with auditable electronic document histories
Avoids hard costs for storage, printing, and transportation of physical documents
Enables staff to focus on member service, not rote tasks required with paper procedures
Removes burden of approvals management from employees with automated workflow and notifications
Provides infrastructure and point-and-click configurability to adjust user interfaces and expand across additional business units as needs arise
APPLICATION
Claims
Underwriting
Technical Support
COMPLEMENTARY PRODUCT INTEGRATIONS
AS400 line-of-business claims and underwriting applications