Comprehensive Support, Extensive Expertise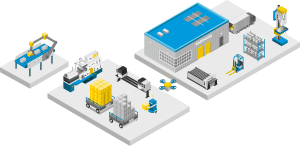 There's strength in our numbers – enough to conquer your Manufacturing and Distribution challenges.
With more than 400 manufacturing and distribution clients, LBMC has the experience to overcome your specific obstacles. Our understanding of economic uncertainties, increasing costs of raw materials, legislative and regulatory issues, and political unrest is just part of the comprehensive support we bring to the table. That, combined with our expertise and tailored services from the LBMC Family of Companies, will help you boost performance and keep your business running strong.
Our products and services provide the visibility into operations, customers, and suppliers you need to track products, lower inventory levels, and lower the cost of internal operations. We will help your manufacturing or distribution company lower costs, increase your margins, and compete more effectively in today's challenging global market. And with our extensive network of seasoned partners, it's a promise upon which we can deliver.
Consulting & Accounting Services for Manufacturing & Distribution Companies
Manufacturing & Distribution clients include:
Manufacturers of all sizes and types, including automotive industry and supplies
Local, national and international distributors
Foreign-owned subsidiaries
Multi-state operations
Private equity and venture-backed and publicly traded companies
Client Testimonial

"When we met the LBMC team, we immediately recognized they were speaking our language. It was clear they understood our business model. They could anticipate our needs and give insight on how to solve our business problems. They presented insightful options and gave honest feedback about the pros and cons of each. The honesty and integrity of their team won us over."
Diakonia
Manufacturing & Distribution Executive Team